Producing Quality Handcrafted Candles Since 2011
Since many of us are spending more time at home, candles have become even more important in our lives. Our homes now double as offices and schools. Boundaries are blurred but the perfect fragrance can help you define your space. Scents are like music - they are powerful triggers that can energize us, help us relax, or magically conjure up a treasured memory that makes us feel good. However, if your candles don't perform well, that experience is ruined. If they don't burn fully or the scent doesn't last, then you are left disappointed and still in need of that mood-lifting fragrance.
We understand your frustration. It's why we started A Glowing Trend Handcrafted Candles. It's why we handcraft our candles in small batches to ensure that our premium fragrance is thoroughly mixed and will last for the entire life of the candle, no matter how many times you light it. It's why we use 100% soy wax and cotton wicks to minimize smoke and ash. Since soy is a vegetable wax, all our containers can easily be cleaned and reused. It's why we test our wicks to be sure that the candle will melt all the way out to the sides of the container, so that it burns completely with no wasted wax. It's why we use color to give extra context to the scent and to make the candle a decorative addition to your home.
At A Glowing Trend, we take pride in creating a quality, long-lasting product that will give you the best candle experience possible.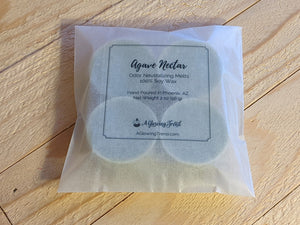 A Glowing Trend Handcrafted Candles
Agave Nectar Odor Neutralizing Melts